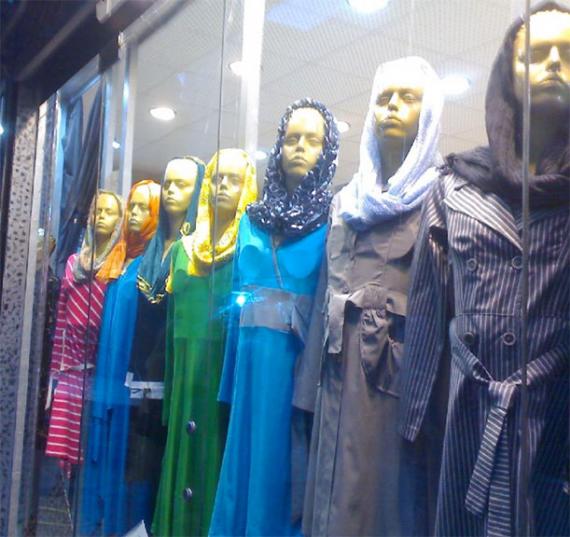 Fashion update: Breasts are officially an undesirable feature in Iran!
The Vice Police ordered the chop-chop for these mannequins while cracking down on "Un-Islamic" practices in Tehran.
In America I get annoyed just looking at super curvy plastic buttocks in the store window. Obnoxious and over the top for sure, but at least it's a cheerful image. Meanwhile, these dolls are frowning and shutting their eyes, more dismal than a dead nun. You can practically hear the sighs of all those plastic ladies wishing they didn't have awkward inhuman stumps showing through the front of their
thawb
.
How can this possibly attract women to shop at the store? "Oh yes, see how modest these dolls look in our clothes. With a robe like this you would never attract the attention of a man! So even though the ideal of not having womanly assets may be a bit out of your reach, our clothing is the next best thing."
Yep, breasts are totally disgusting. I mean, people might look at you and be reminded that you are a WOMAN! So keep them out of sight until you need them for the only thing they're good for:
feeding newborns, of course!